Here are photos of my 1st chunky book project. I made it for my work supervisor with some help from her daughter who provided the photos (thanks Christy!) The photos are large so may take a bit to load; I hope you think they're worth the wait. Click on the photos to see the entire image. I made more comments after the last of these 5 photos.
Sorry that last page is blurry; I didn't preview my photos too well before giving the book to Debbie.
Lesson #1 learned is that I really like flat embellishments for these books. They can still be 'puffy books' but will close easier. Lesson #2 learned is that I need to research which adhesives work best in particular situations.
I'd like now to make one of these type books for each of my 5 grandchildren. I think I'd best work in an 'assembly line' process for producing 5 at a time. I'll get all the photos together first, then all papers I want to use for all 5 books. I'd get all that put together and then add the embellishments I choose as a last step. I'd also like to work on different types of closures for books like that.
I really learned alot making this book and thorougly enjoyed creating something for Debbie. I thought it'd make a good 'brag book' to keep at work when someone asks about her granddaughter. Debbie does not have to be persuaded to talk about Savy; she's always glad to talk about her :-)
My brother and his wife and 2 of their kids are visiting at Mom's this weekend. Thomas just turned 5 years old and I make a few pics at his 'party'. He wanted a SpongeBob cake so that's what he got. Here are a couple of pics of Thomas Houston.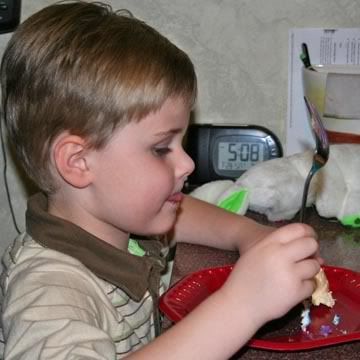 Have a great evening and God Bless You